Three organizations in Tyler, Lindale and Mineola have received a statewide award for recruiting the manufacturing company Sanderson Farms to East Texas.
The Tyler Economic Development Council, Lindale Economic Development Council and Mineola Economic Development Council received the Community Economic Development Award from the Texas Economic Development Council.
Economic development councils are nonprofit entities that use incentive packages to help bring businesses to the regions they serve. The Texas Economic Development Council does similar work on a statewide level.
The statewide organization gave six of the awards to councils across Texas. The Tyler, Lindale and Mineola organizations received the award in the category of organizations serving 100,001 to 250,000 people.
"Our Community Economic Development Award is one of the ways in which our organization honors the excellent work done by our communities, their leaders and their economic development professionals," Tom Long, the chairman of the Texas Economic Development Council, said in a statement.
"Each community nominated achieved excellence in economic development and substantially improved the economic base of their respective regions," Long said. "The recipient communities in each population category were recognized for extraordinary accomplishments in meeting the criteria set forth in the nomination process."
Sanderson Farms, based in Mississippi, is the third-largest poultry producer in the United States. The company has a market capitalization of $2.8 billion and sells its products in grocery stores throughout the Untied States.
The company has been building a processing plant in Tyler, a hatchery in Lindale and a feed mill in Mineola, and planning to sell its products to John Soules Foods, which specializes in pre-packaged food.
Sanderson Farms' recruitment package includes $1.2 million in cumulative property tax abatements over 10 years from the city of Lindale, Smith County, Tyler Junior College and Smith County Emergency Services District No. 1.
The company plans to open the new facilities in the first quarter of 2019. The abatement package requires the company to create 150 jobs by the end of 2019, increasing that number by hundreds of jobs more per year until reaching 1,490 in 2028.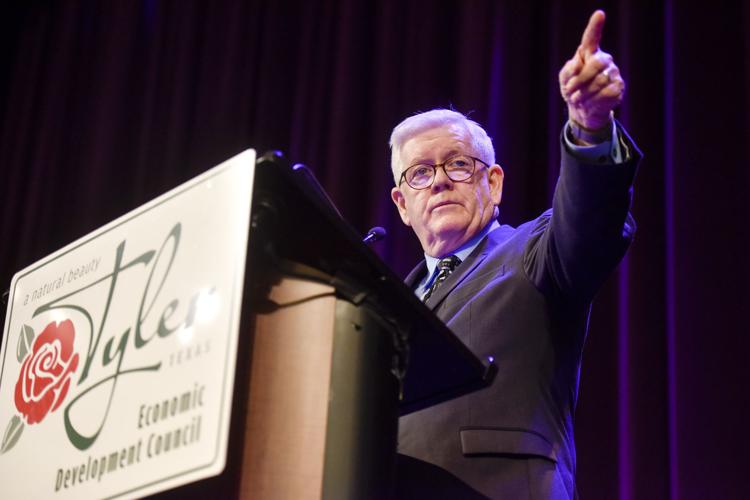 Tom Mullins, the president and CEO of the Tyler Economic Development Council, said the organizations first found out that Sanderson Farms was looking to expand in December 2015 from John Soules Foods and worked on recruitment from there.
Mullins said the company could not have bought a large plot of land in one area to locate all three of its facilities because there are federal regulations on separating facilities related to food chain security.
Instead, he said the new facilities create a triangle between Tyler, Lindale and Mineola where the core operations circulate, and then out to growers who will be spread among Smith, Gregg, Upshur, Van Zandt and Wood counties. "It's going to have a big regional impact for that entire part of northeast Texas," Mullins said.
He said this is the third statewide award that the Tyler Economic Development Council has received since its creation in 1989. Earlier this year, the Sanderson Farms project received a similar award from the International Economic Development Council for cross-jurisdictional work.
Sanderson Farms Processing Plant
"Putting a project like this together with all of its moving parts and different decision-making organizations was really a challenge but couldn't have turned out better," Mullins said. He praised Sanderson Farms as "a high-quality company" that works with nonprofit organizations in the communities where it sets up shop.
Pic Billingsley, the director of development and engineering for Sanderson Farms, said the company plans to open its facilities in the first quarter of 2019. He said the company has hired and begun training between 400 and 450 people.
"It's always good to see people's efforts be rewarded and between Tyler, Lindale, and Mineola coming together on a regional project, you know, that was fun to watch and fun to see and I'm happy for them that they've been rewarded for their efforts," he said.
TWITTER and INSTAGRAM: @_erinmansfield