A Wyoming-based company that services Caterpillar mining machines is planning to move to a property in Smith County near the airport.
The Wyoming Machinery Company is planning to open a new division on a roughly 11-acre property on U.S. Highway 64 West in Tyler, just outside of city limits and just north of the Tyler Pounds Regional Airport.
"We're really excited about it," said Richard Oats, the vice president of mining for the company. "We're hoping that we're open for business on Aug. 1, so not very far away."
The Smith County location will be a parts and service provider for Caterpillar brand draglines — large machines that resemble a bucket truck or a crane that are used in coal mining and quarries — according to Oats.
Oats said the company wanted to open a division in East Texas to be near mines and quarries in the area, such as the Liberty Mine in Montgomery County, the Kosse mine in Limestone County, and Garwood Sand and Gravel in Colorado County, among others.
"Those are the major properties in Texas, but we are going to serve a great area, so dragline service specialties will cover the United States with the exception of Florida, Georgia and the Carolinas," Oats said.
The company is seeking tax incentives through Smith County and the Tyler Economic Development Corporation. The Smith County Commissioners Court will vote at its regular meeting on Tuesday whether to create a reinvestment zone on the property.
The reinvestment zone being sought is for the purposes of facilitating tax abatements. It's different from tax increment reinvestment zone, or TIRZ, a political subdivision created to implement tax increment financing.
Tax increment financing is a type of subsidy that allows property owners to reinvest money they would have paid in taxes after developing a property back into other projects, such as economic development or public infrastructure.
The type of reinvestment zone being sought for the Wyoming company allows the county government to offer property tax abatements, said Tom Mullins, the CEO of the Tyler Economic Development Council, which works with companies to facilitate tax abatements in Tyler and Smith County.
Mullins said the Tyler Economic Development Council has been talking to the company about abatements for hiring 88 people — and he said it would be only a few years before the company has more than 100 employees.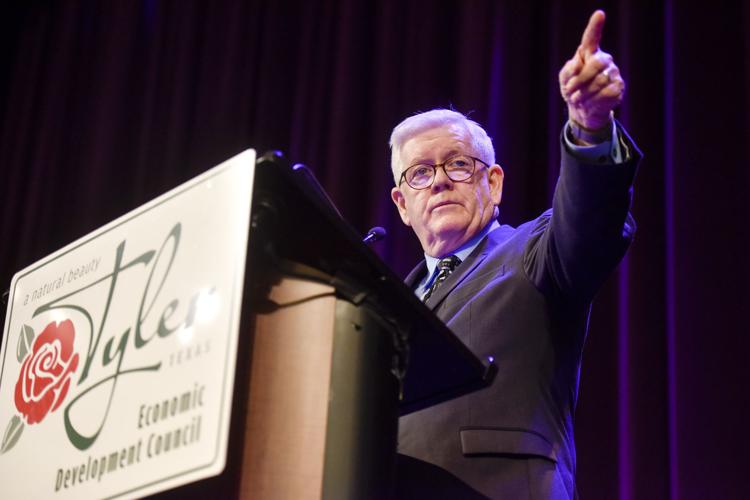 "These are really attractive jobs, very high-skilled," Mullins said. "They are machinists, mechanics, welders. The average hourly pay without benefits ranges from $23 to $50 an hour."
"(The company is) buying a 13,000 square foot existing building, which they can begin setting up for a machine shop right away, and they're going to start construction on a 34,000-square-foot expansion," Mullins said.
Mullins called the project exciting because of its future presence and expansion plans. He said the company also wants to talk to Tyler Junior College about using the college's energy center at its West Campus on SSW Loop 323.
"I think it'll have a positive impact because these kinds of jobs will allow people to build a house or purchase a house in the western part of Tyler," Mullins said. "You'll have more families in that area of town.
"That generates more households, more rooftops," he said. "It could support more retail development on the west side. Plus they have a company jet and they like the idea that they can land at the airport literally across the street from their operations."
TWITTER and INSTAGRAM: @_erinmansfield